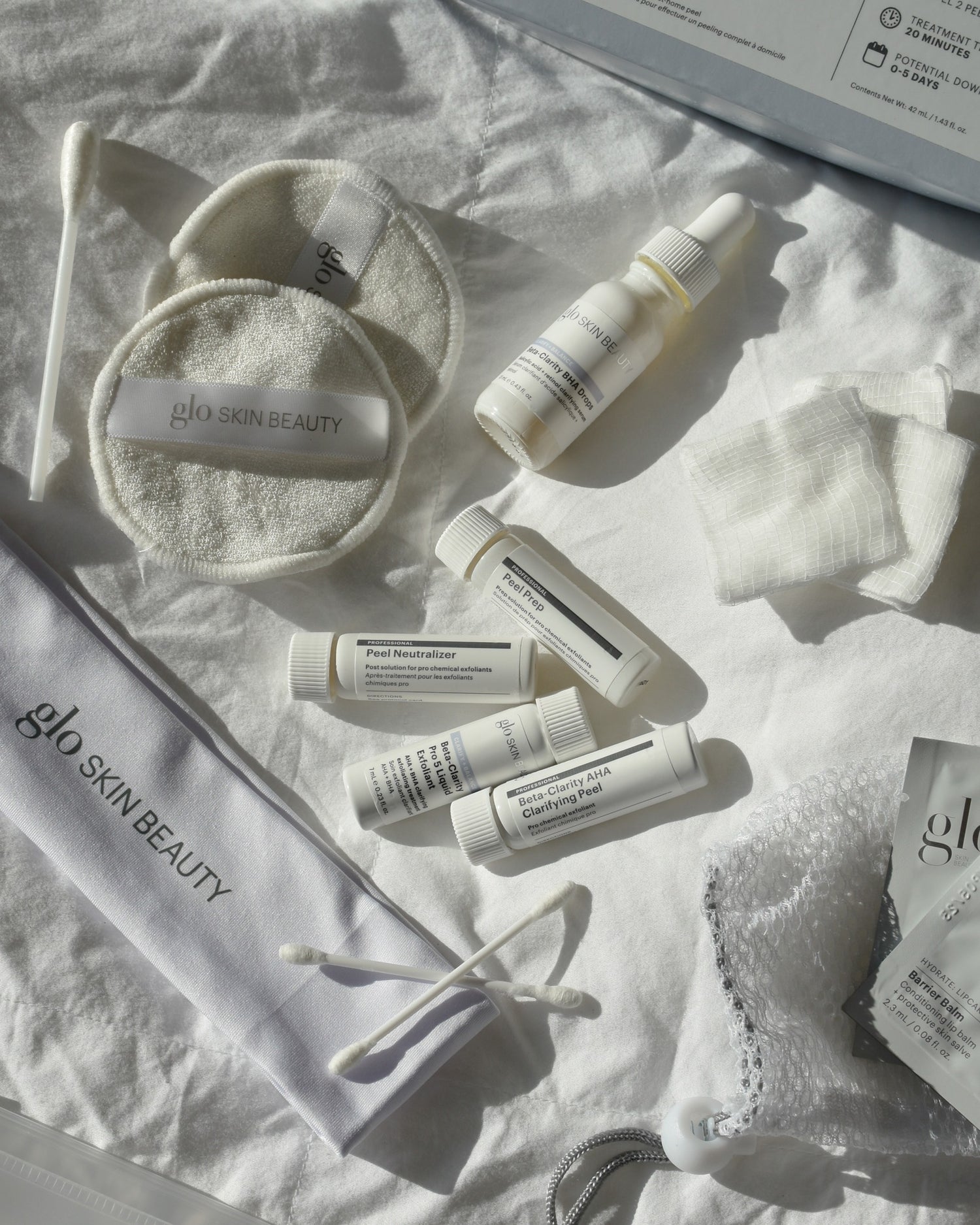 Hydra-Bright AHA Glow Peel
This signature Glo Skin Beauty treatment smooths, hydrates, and brightens skin with vegan lactic and ferulic acids. A botanical brightening boost combined with nourishing and reparative antioxidants helps reveal a more
radiant, revitalized complexion and promotes a lasting, healthy glow.
Hydra-Bright AHA Peel $200
GlyPro Resurfacing Peel
This ultra-smoothing treatment featuring glycolic acid, retinol, and a super fruit reparative complex helps stimulate cellular regeneration to target coarse and uneven texture as well as fine lines, wrinkles and visible pores for softer, smoother and more refined skin.
GlyPro Resurfacing Peel $200
Chemical Peels
Skincare specialists know the importance of professional exfoliation (peel). Get to know Glo's chemical peel series designed to address skin concerns in order to reveal a smoother, clearer and more radiant complexion.
Chemical peels help smooth skin tone and texture of the skin while brightening skin and removing discoloration. Chemical peels are a great option to reduce breakouts, help control oil, diminish acne scaring and soften fine lines and wrinkles.
Cell regeneration, often called cell turnover and renewal, refers to the cell's lifecycle, a continuous, natural process that's imperative for skin health. A number of factors can slow this process, hindering the release (shedding) of skin cells such as: aging, excess oil and debris on skin's surface and even improper removal of skincare and makeup products. This can lead to dull, lackluster skin, uneven texture, congestion and breakouts.
Our peels are gentle, effective and help brighten and tighten your skin leaving you feeling radiant and glowing.
Chemical peels help to:
Gently exfoliate
Stimulate collagen formation
Reduce the appearance of fine lines, wrinkles and acne
Smooth and soften the skin
Encourage cellular turnover